San San
San San Lwin is a refugee from Myanmar (also known as Burma) who escaped to Thailand before arriving in America with her husband and 5 month old daughter in 2005. She now works as a housekeeper in the Kenan living community on UNC-Chapel Hill's campus, and lives in a Habitat for Humanity house with her husband and two daughters.
As a housekeeper for college dorms, Lwin has seen her fair share of messes and has plenty of funny stories to tell about the students she interacts with. However, it is easy to see that she loves those she runs into and develops connects with them despite her difficulty speaking English. "Sometimes [the students] pile the trash, but it's okay. We do what we came to do," she said laughingly. "But this building, the student is good because when I cleaned a couple years ago I did a floor of all men and the ground [was covered] in throw up."
Lwin gives a soft smile to a student passing her in the hallways while cleaning. "Its good, I like the UNC housekeeping because it's close to my house," she said "In 2007 we moved to Chapel Hill because we wanted to work here. [The students] are nice."
Lwin finishes cleaning in the Kenan living community. Recently, extended family has immigrated from Myanmar into her house in Chapel Hill, leading to more family time and traditions. "I will teach my daughters how to cook in a couple of years," she said. "They are too young now.
Lwin has a special connection to McIver residence hall, because she loves the building and how she knows how clean it is. She also struggles with health issues, specifically low iron in her blood, which makes it difficult to clean other dorms that don't have elevators. Lwin works hard, picking up many overtime shifts at sports matches and cleaning residence halls outside of the Kenan community.
Lwin calls in her elder daughter, Shun Le Win, 12, from her room to speak to her in Burmese. "My older daughter is learning the violin. She's great, she's good," she said. Both San San and Shun are now U.S. citizens. Her younger daughter, May Thu Win, 10, is an American citizen by birth. "We had to memorize the answers to 100 questions, and they asked us 6," Lwin said of the process of getting her citizenship. "It was more expensive for my daughter." Her husband has his green card.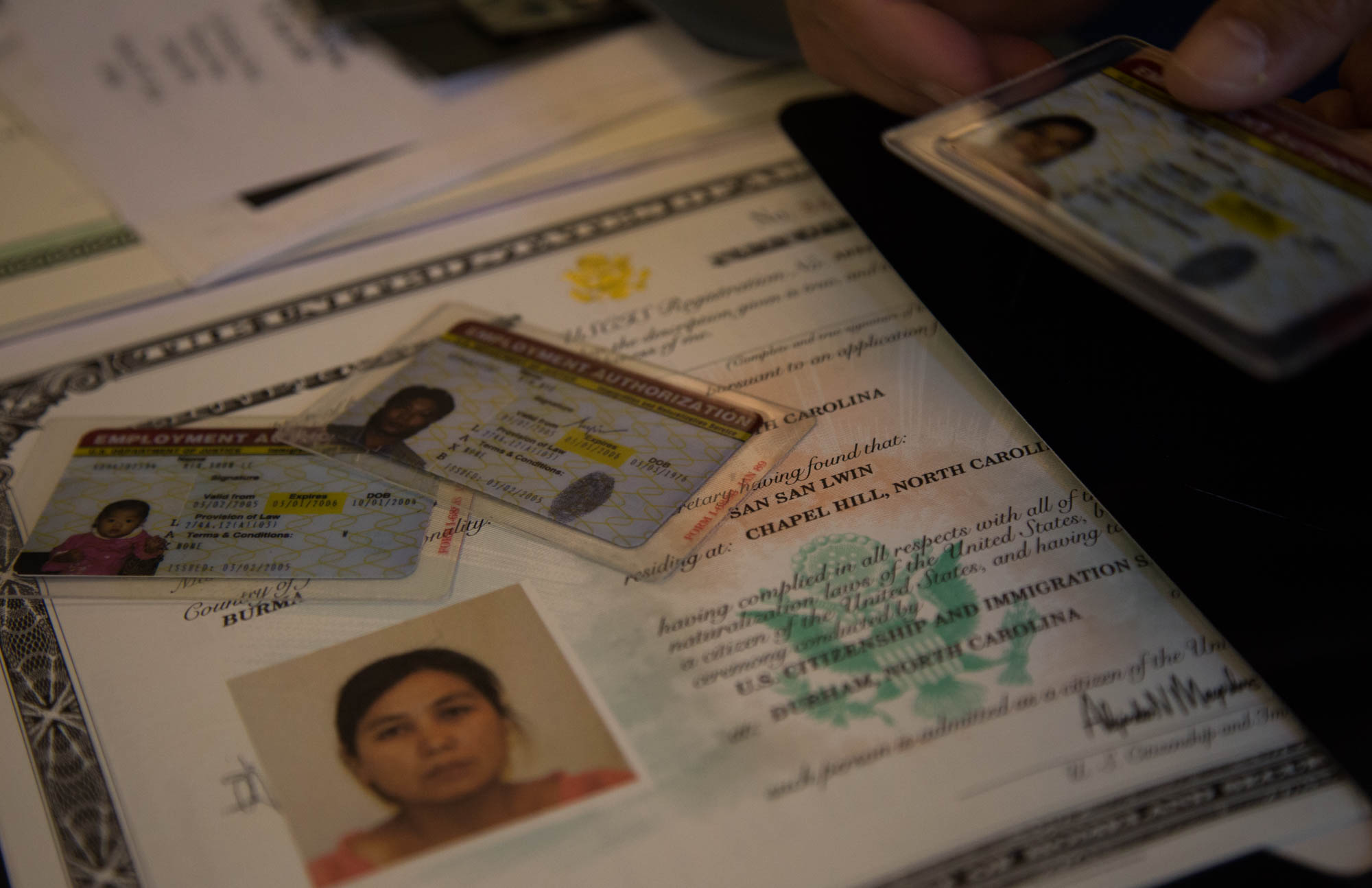 Lwin shows a meticulously kept collection of documents telling her journey to becoming an American citizen. She even has the plastic bag with the IOM logo given to refugees. "I want to keep, this is my life. We can't speak any English when we came to the United States," she explained. "In the United States, every airport knows [the bag we carried with documents] and knew we were refugees. It's crazy."
Lwin picks vegetables in her backyard garden for the families dinner. She had seeds sent over from Myanmar, and now grows traditional crops. The garden is one of the ways that she continues on her practice with farming, as her parents were farmers and she grew up farming in Myanmar. "We produce too much food to eat," she said. "We usually have to give some away to our neighbors."
Lwin prepares the fresh vegetables for cooking, her hands moving quickly and precisely from much practice. "In our old village everyone cooked," she said. "It was small, so there were no restaurants, everyone cooked."
Lwin prepares food in her house. The family applied for a Habitat for Humanity house in 2014, which they now decorate with mementos of Myanmar. Photos of Burmese leaders and humanitarians line the walls, along with photos of family, and a framed certificate for a C. Knox Massey Distinguished Service Award, one of UNC-Chapel Hills highest honors that Lwin won. "Our house is small," Lwin said, "but it is good."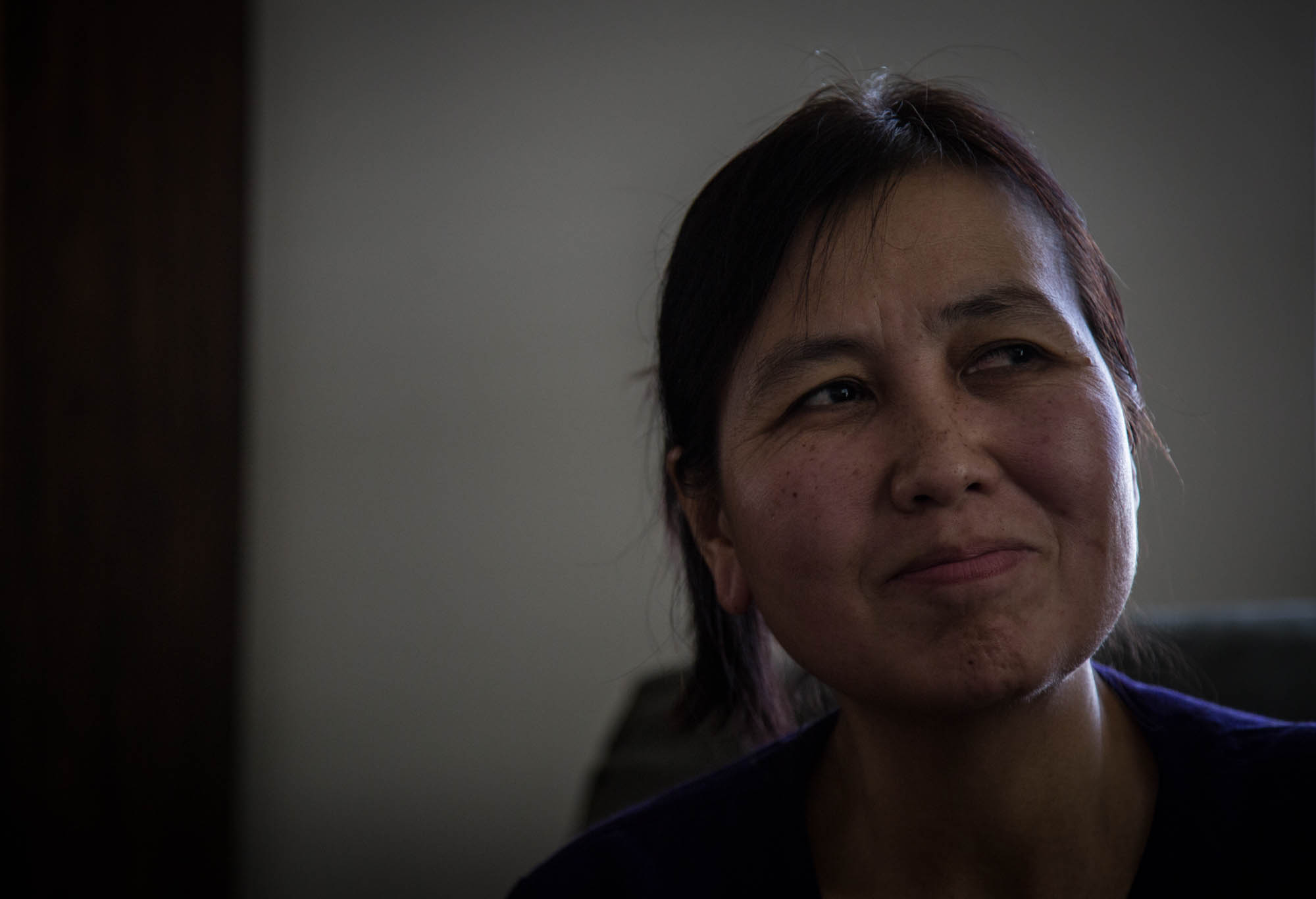 Lwin reminisces on her time in Myanmar and then Thailand. "One day I would like to go back to visit," she said. She misses her family that was left behind, despite frequent phono calls and conversations with them. She is saving up the money to go visit with the rest of her family.